Puffin Little Environmentalist: Gardening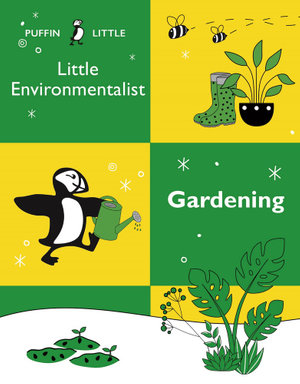 Puffin Little Environmentalist: Gardening is another welcome addition to the cleverly written Puffin Little Series. Gardening has always been an important pastime for both adults and children and during the recent COVID pandemic it reached new levels of popularity. This little book provides the younger reader (and perhaps older ones too) with information to successfully plant and maintain their own garden. As with all the Puffin Little books, the reader is given a personal welcome to join the little puffin, this time in its garden. The book gives an important introduction to gardens, how plants grow with information on photosynthesis, germinators and pollinators and how to plan and care for your garden. In these chapters ideas about watering, climate, light, shade, garden beds, compost and tools are shared with the reader. The final three chapters discuss garden wildlife, planting a native garden and growing a kitchen garden. One important fact shared is that by returning green space to our backyards and balconies new habitats are provided for wildlife especially bees and birds. As in the other books in the series, at the end is a fast facts page, glossary and quiz.
Plants are an important part of the Australian Curriculum Science component for a number of primary school year levels and this very comprehensive yet easy to read and explore book will be a welcome resource for both students and teachers.
Themes: Gardening, Plants, Compost, Insects, Environmental issues.
Kathryn Beilby