Princess Benjamina has a very cheeky bum! by Claire Hooper. Illus. by Jackie Nguyen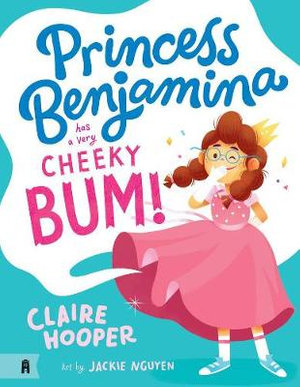 When Princess Benjamina is in the room, strange things happen. Her bum says things and in the main, not very polite things. This causes considerable embarrassment for her family and she is often sent to her bedroom, where she despairs of the things her bum says.
When a visitor comes to the palaces her bum says that his nose is huge, at the market her bum tells a seller that the pumpkin looks just like his head, when the queen, her mother cooks some tarts, Benjamina's bum says they smell. Sent to her room she contemplates what to wear for the coming ball which will stifle the noise coming from her bum. She designs a dress with the fullest skirt and stuffs several pillows and a doona under it to cover her bum. And it works except now there is a new problem when a prince arrives with the same embarrassing problem.
Hilarious rhyming lines will have children giggling along as they predict the rhyming words, all to do with variations on the word bum. Kids will love calling out the rhyme: bottom, behind, derriere, backside, and so on, and snigger every time the word bum is read out. A very funny situation comes to a resolution as Pierre, the prince from the neighbouring country has the same problem and in sharing their trouble, find that the problem lessens for them both.
Cute illustrations by Jackie Nguyen add to the humour of the story, giving readers an interesting fairytale background to explore. I love the endpapers with their plethora of pillows.
Claire Hooper is a stand up comedian and TV presenter who has always wanted to write a children's book, while Jackie Nguyen, an illustrator and graphic designer use bold bright colours in her work.
Themes: Embarrassment, Humour, Overcoming difficulties, Strength.
Fran Knight