Port Adelaide to Shanghai by Andrew Hunter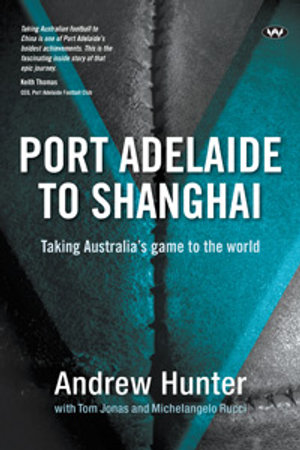 This book is not simply for the Port Adelaide Football Club true believers, it is not just for AFL supporters. This story is an example of how determination and hard work can strengthen ties, both cultural and commercial, between two very different societies. It demonstrates that ties formed through non-political associations can create bonds that can outlast the current political machinations.
For anyone who has visited China they will be aware that one old cliche is true "We have a lot more that connects us than divides us". This was apparent to the players led by their captain Tom Jonas, through to the CEO and Chairman. Port Adelaide Football Club has a fantastic history of inclusion and that has held them in good stead through this experience.
Andrew Hunter holds a Master of Philosophy (Asian Studies) and is an athlete in his own right. He was hired by the Port Adelaide Football Club to advance its engagement with China. This engagement was an ambitious strategy for an AFL club struggling both on and off the field.
The author details the challenges involved where such different business, social and political cultures exist. However what comes through is just how many people from both societies had only the best of intentions for this project.
Robert McNair