Pig the monster by Aaron Blabey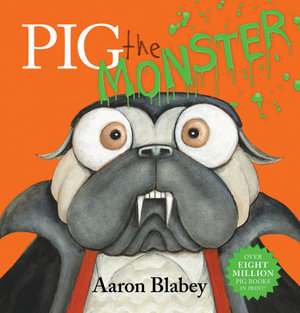 The ever-popular Pig is back and he's up to some serious tricks, desperate to get his hands on as much as Halloween candy as he can. His outfits are scary and inspirational: Frankenstein's monster, a two-headed Pig and a zombified bumpkin are just some of his getups. But scarier than his costumes is his greed; he's snaffling whole baskets of treats and avenging anyone who stands in his way; eggs are being thrown at front doors, cars are being toilet papered and paint is being thrown. The tricking shenanigans are seriously astounding and children will especially love the paper bag of stinky poo left at a front door. This is Pig at his dastardly finest and the vocabulary used by Blabey is superb. He is a 'mummy unhinged' and a 'gluttonous goblin', he is on a 'monstrous rampage' and his payback is 'unprecedented'. This is so rich with infrequently used vocabulary, yet so effortless and pleasing to read-aloud.
The problem with Pig's greed is exposed when he ignores Trevor's warnings and munches on a tasty chocolate treat. In predictable Pig style this ends with a torrent of disgusting chocolate vomit. The illustrations are absolutely hilarious and integral to the storytelling. As he often does, Blabey manages to sneak in a reference to another of his books with Trevor dressed as Thelma the Unicorn. This is one of the best Pig books and a true treat for the eyes and the ears. It will appeal to all Pig and Blabey fans, young and old, and particularly to Halloween lovers. It might also provide some fabulous ideas for Halloween costumes...but hopefully not for Halloween tricks!
Themes: Halloween, Greed, Sharing, Humorous Stories, Rhyming Stories.
Nicole Nelson