Piano fingers by Caroline Magerl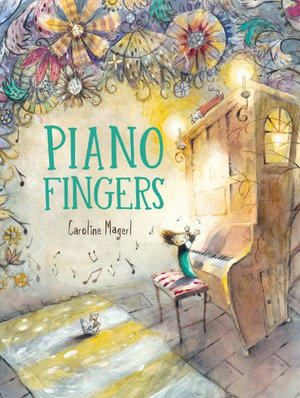 Bea is part of a huge musical family and does not yet know what shape her music will take but she is eager to start.
An old saying that when a student is ready, a teacher appears is at the heart of this story as Bea finds her music teacher in Gus, the cat ghost who lives in the piano. He is certainly not the teacher Bea expects.
Bea's older sister, Isla plays the violin and when Bea tries to accompany her with the triangle, she is rejected. Undaunted she finds a piano, smelling vaguely of mouse and sits down to play. Maestro Gus appears and directs her fingers to play just one note. That note, like a tear falling from a star, is enough to wake the piano, and sounds emanate from the instrument, filling the void.
The sounds are deliciously described and eventually Gus sees Isla who recognises him and follows the music to Bea. This time she is far more supportive of her little sister and they make music together.
This is a wonderful story about imagination and following your dreams, as Bea keeps trying until she finds the instrument she wants to play. Children will be immersed in her quest as they read the text and see the ethereal illustrations which flow over each page. This stunning visual feast accompanies an impressive text: watercolour used in conjunction with pen and pencil drawings bring to life the young girl and her search for her musical heart.
For more information about Caroline and her book go here and watch an introduction to the book by the author, Caroline Magerl. Classroom ideas are available.
Themes: Music, Perseverance, Dreams.
Fran Knight