Peppa Pig : Peppa loves Easter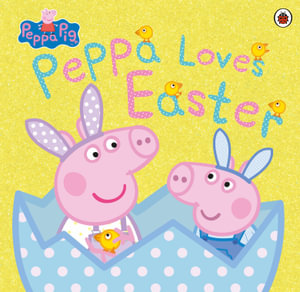 These Peppa Pig picture books hit on all the themes most beloved by young ones: Christmas, birthdays, mermaids, dinosaurs and Easter! They are much longer than the Peppa Pig board book series so are perfectly suited to the upper age group of Peppa fans. In Peppa Loves Easter Miss Rabbit has planned an Easter Eggs-travaganza for all the playgroup children. The eggs-travagana isn't an egg hunt and it isn't a bonnet competition, but an activity trail. The children follow the signs to all the creative stations, including cupcake decorating and Easter card making. Finally they arrive at the end of the trail with a basket full of their creations. What's the surprise in the giant egg? It's Miss Rabbit of course!
This would make a perfect Easter gift for little Peppa enthusiasts, especially those who love all the fun and excitement of Easter. The glittery front cover and the colourful easter bonnets worn by the children will entice and engage again and again. The story cleverly takes the focus off chocolate and the often competitive egg hunt and will hopefully inspire some creative and collaborative Easter endeavours or traditions in the form of making bonnets and cards and decorating egg cups.
Themes: Easter.
Nicole Nelson