Pearly and Pig and the great hairy beast by Sue Whiting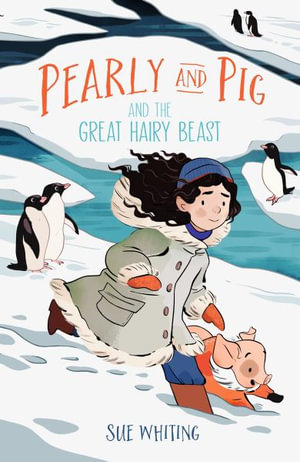 The excitement of this adventure starts immediately in this novel. Pearly is a 10-year-old who is very concerned that her parents have not returned home. The special Adventure Phone continues to ring but should she answer it? This is a test of whether she too can be a member of the Adventurologist Guild, like her parents. She makes the right decision and her mother answers and tells her she must immediately take Pig to the jetty at Port Clementine. Pig is a pig with an extraordinary sense of smell and Pearly can communicate with him. But there's something very fishy going on and when she arrives at the jetty her parents aren't there. Just the beautiful Emmaline Woods and some burly men and a ship called the Mighty Muncher. Pearly doesn't trust this woman who intimidates her. When Pig is Pignapped Pearly tricks her way onto the ship which is headed for Antarctica in search of the Great Hairy Beast. Of course, she is discovered on board and she also realizes Emmaline's true villainy. But where are her parents and how will Pearly and Pig survive the harsh Antarctic environment?
This is an entertaining mystery with a light touch and an array of colourful characters. Pearly is an earnest girl trying to stick to the rules of RAG (Rules and Guidelines for Young Adventurologists) and not give into her fears. Fortunately, she is a gifted linguist and communicates with animals which helps the animals and gets her out of tricky situations. Pig is endearing with his OINKY! OINKY! NO!-NO! and AROOing warnings. There's a subtle thread of climate change, anti-hunting and you get a sense of the Antarctic environment. Whiting's RAG as an appendix is a nice touch and worthy of discussion with children. Pearly will work well as a read-aloud for 7- to 9-year-olds.
Themes: Bravery, Antarctica, Saving animals.
Jo Marshall