Paws by Kate Foster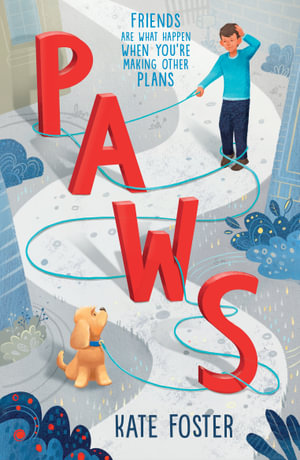 Paws is an easy to read heart-warming book about Alex, an eleven-year-old autistic boy looking for a best friend before he goes to high school. He loves dogs and his best friend is his cockapoo dog called Kevin. I wish I had a Kevin, and I am not a dog person. Give me a cat any day. Kevin was so cool and cute and helped Alex so much. Every kid should have a Kevin. Anyone that loves dogs would really love this book.
Kate Foster has done a brilliant job getting me as a reader to see the internal struggles that Alex goes through every day to understand social and emotional cues. No autistic child is the same and this is one story of how Alex sees the world and the obstacles he goes through to belong.
Alex is in his last year of primary school and thinks he needs to make a best friend before he goes to high school so he has a friend there with him. Alex is obsessed by dogs and PAWS the Dog Show is coming to town. And what better way to make a best friend but by entering a competition and winning a trophy. You can always get a best friend if you have a trophy. The fun Alex has with Kevin is cute.
I found Paws a great book about caring and inclusion and how people can be your friend without you knowing it. It shows the struggles a boy like Alex has at school and how he tries to copes.
I think Paws is a great book to read as a class and go through the discussion questions at the end of the book. The questions that Foster included at the end of the book would be greatly appreciated by teachers.
Themes: Autism, Friendship, Dogs.
Maria Komninos