Pages and Co. Series by Anna James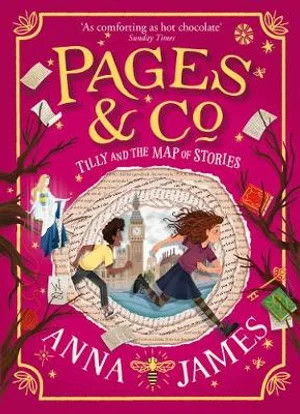 Tilly and the Bookwanderers. ISBN: 9780008229863.
Tilly and the Lost Fairy Tales. ISBN: 9780008229900.
Tilly and the Map of Stories. ISBN: 9780008229948.
"From outside on the busy north London high street, Pages & Co looked like an entirely normal bookshop. but once inside it didn't quite make sense how everything fitted inside its ordinary walls. The shop was made up of five floors of corners and cubbyholes, sofas and squashy armchairs, and a labyrinth of bookshelves heading off in different direction.  A spiral staircase danced up one wall, and painted wooden ladders stretched into difficult-to-reach corners.  Tall arched windows above made it feel a little like a church when the light spilled in and danced on the air. When it was good weather the sun pooled on the floor and the bookshop cat - named Alice for her curious nature- could often be found dozing in the warmest spots.
During the summer the big fireplace behind the till was filled to bursting with fresh flowers, but at is was October, a fire was roaring there..." Does this not conjure up every booklover's dream of a magical place, a bookstore where magic and mysteries, adventures and escapades beckon?  And for it to be the home of Tilly who prefers the company of book characters to the people in real life and, although not having been outside London, is a seasoned traveller within the pages of the books that abound on the shelves just shouts that this is going to be a series for booklovers and readers that will deliver all that is expected and more.
But what if your favourite characters could not only come out of the books and have real-life conversations with you but could also take you back into the book to have your very own adventure within the story? Tilly discovers that this is part of her relationship with her books and that, unlike other series where it is a secret power, this one is shared by her family,  There is much more to her grandfather and grandmother and the family's history and lives than she ever imagined. Bookwandering is what this family does, and it might explain the mysterious disappearance of her mother and the absence of her father.
Created for independent readers or perfect for classroom read-alouds, this is a series that really needs to be read from the first one in order so that the subsequent adventures have context but it will have the book lover hooked from the start, regardless of their age, and wishing they too couldbookwander into the magical, mystical world of their favourite characters.
I just loved it!!! Once your students know about it they will be queuing up!
Barbara Braxton