Our country : Ancient wonders by Mark Greenwood & Frane Lessac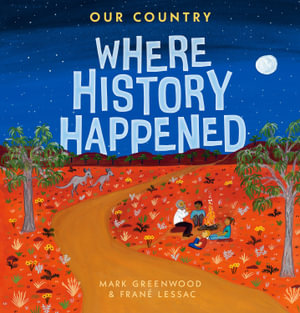 Our Country: Ancient Wonders describes a journey around Australia visiting natural wonders dating back millions, even billions of years. Written for children but will be enjoyed by adults this book will entice readers to explore their own country and find out about some quite stunning places that have existed since ancient times. The book includes colourful front endpapers which show a map of Australia listing the places explored throughout the journey and ends with an important timeline and glossary as well as the final endpapers showing a map with more places to be explored. The information is written in changing fonts in different sizes to allow the reader to follow the story, learn new facts and highlight key statements. A bus takes the diverse range of tourists around Australia where they visit places such as Lark Quarry, Undara Lava Tubes, Lightning Ridge, Great Ocean Road, Cradle Mountain, Franklin River, Naracoorte Caves, Lake Mungo, Uluru and Kata Tjuta, Devils Marbles-Karlu Karlu, Kakadu, Wolfe Creek, Bungle Bungles and Zebedee Springs. Each place visited has a double page spread and is beautifully illustrated. The author shares history, geography and geology with readers and importantly shares a connection to Country throughout.
A wonderful book for home, school or public library.
Themes: Australia, Natural Wonders, Travel.
Kathryn Beilby