Open your heart to country by Jasmine Seymour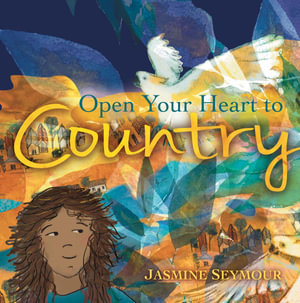 A joyous evocation of what country means to First Nations people is presented in this colourful, vibrant two language picture book. With Dharug and English alongside each other, the opportunity is given for younger readers to learn some language, and be educated as to its importance in Australia.
The opportunity is here for discussions about why both languages are presented and readers may question why so little First Nations languages have been seen since European settlement.
Award-winning creator of Baby Business (2019) and Cooee Mittigar (2019), Jasmine Seymour has produced a stunning bilingual story of healing and belonging.
Told in English and Dharug, Open Your Heart to Country is a visual account of re-connection to Country from a First Nations perspective. Returning home means revitalisation, being surrounded by the healing properties of country, being educated by all that is seen and heard, and being immersed in the language of the people who live there. Each brings a sense of belonging and underscores the importance of country to First Nations people.
With exquisite illustrations using mixed media, printmaking and digital collage, each page holds a fascination for eager eyes checking out the detail and evocation of country. I love the overlay of flora and fauna found on the land, the bright bottlebrush and white flannel flowers, the parrots, butterflies and fish. And I love the range of landscapes shown to the readers, as well as the array of things people do when they are there. People are not static, but involved, learning and passing on knowledge.
At the end of book the text is given in both languages alongside each other, as well as an explanation of why language is so important and why Dharag people who are from the Sydney Harbour area are working hard to bring it back to life. Teacher's notes are available.
Themes: Aboriginal themes, Sydney Harbour, Dharug, Belonging, Aboriginal language.
Fran Knight