One lone swallow by Corinne Fenton. Illus. by Owen Swan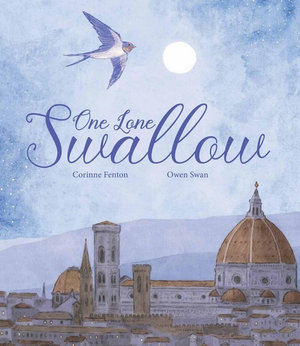 Owen Swan's line and colour wash illustration of Florence in the early part of the nineteenth century greets readers picking up this book and questions will jump into their minds seeing the swallow high above the buildings. Opening the pages we find that the swallow has left her nestlings to search for her mate. A tense evening's search begins. The lone swallow flies over the ancient walls and towers, over the chimneys and roofs, under the bridges, through the arches searching all the time, aware that her nestlings will be calling out to be fed.
She rests on a high point allowing her a view over the whole city: surveying the bell towers, the Tuscan Hills and the roads.
At last she spies him, entangled by a shoemaker's twine, draped across the toe of Michelangelo's David.
Taking the end of the twine in her beak, she pulls until he is almost freed, but a rat crawls onto the statue ready to pounce. With her last pull, she frees him and they fly back to their nest.
This beautiful story of fidelity, of the swallow's commitment to finding her mate will be read and read again by children. The words reveal her constancy in her search, pushing her nestlings to the back fo her mind, flying over the whole city in her quest. Fenton began thinking of the idea while watching the swallows in the piazza outside her bedroom window in Florence in 2010, and it has been simmering away ever since. Her words describe this beautiful city at twilight and these are given substance with the illustrations of Florence two hundred years ago. Swan travelled to Florence, sitting amongst other artists to sketch the city. His extensive use of soft blues and browns give the readers a bird's eye view of this World Heritage site, and will encourage questions about the city, the statue of David and many fo the buildings depicted.
Fenton and Swan have created a stunning book, pushing readers to think beyond the ordinary, to admire the commitment in adversity shown by birds that mate for life.
Themes: Florence, Commitment, Swallows, Tenacity, Courage.
Fran Knight