Once upon our planet by Vita Murrow. Illus. by Aitch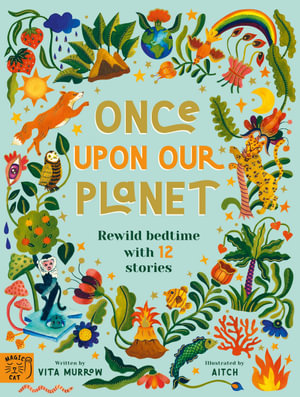 Once Upon Our Planet is an interesting and engaging book showcasing twelve original stories related to many amazing wilderness areas on Planet Earth. Nearly every story has Once Upon as its beginning title and is then finished with an aspect of the natural world - reef, tundra, mountain, forest, paradise, savannah, riverbank, salt-lake, wind, sun, island and top of the world. The stories are written in the style of a myth and use various animals and plants throughout. The first story, 'Once Upon Two Suns', tells of the animals who perform together and are left bereft when crocodile refuses to take part anymore as the suns are too hot and drying him out. The other animals devise a plan to get rid of one sun and night is born. 'Once Upon A Forest' shares with the reader the story of Captain Whitehead, an enterprising monkey, who was able to solve problems and had a special way with plants. To the forest creatures great dismay their habitat is being destroyed by a metal machine and it is up to the Captain to find a solution. He cleverly does this and becomes a legend in the forest.
Each story has a message about caring for the planet as well as friendship, cooperation and problem-solving. This book would make an excellent class read-aloud especially around World Environment Day or when discussing themes of sustainability. The book has a striking cover with embossed gold imprinted in the images and a sub-title: Rewild bedtime with 12 stories. The beautiful illustrations throughout the book will keep the reader connected to each story. A perfect gift for those children who love stories about nature and a welcome addition to a home, school or public library.
Themes: Planet Earth, Wilderness, Short Stories, Mythology, Animals, Plants, Harmony.
Kathryn Beilby