Oi Aardvark! by Kes Gray and Jim Field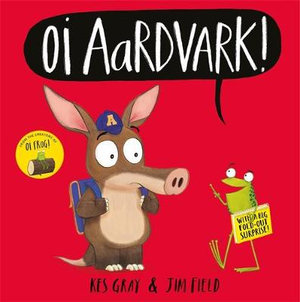 Following the string of successes beginning with Oi frog! (2014) comes an alphabet book with a difference, introducing many of Frog's friends to the appreciative reading audience who will laugh uproariously at the way words are used to rhyme with the animal nominated for each letter. And most of these animals are usually overlooked in the many alphabet books available.
The lugubrious cat and questioning dog follow the story, adding comments along the way, questioning and suggesting, encouraging the reader to do the same. Like the animals selected, the words chosen to rhyme are often unexpected, adding thrills to the reading, and a lot of laughs from the audience.
Frog invites the aardvark, cat and dog to check out his new book: My all new alphabetty botty book, which he is writing. Of course, cat derides it, questioning the first rhyme - cardsharp for aardvark. From then on, fun comes hard and fast as the words dot the pages, the animals all paired with something to sit upon.
I laughed out loud at the Elk sitting on a whelk and the giraffe in a bath, while the iguana has a rough time sitting peacefully on a fish bowl of piranha. The look on the iguana's face is priceless. So too, the kudu sitting on, well, poo will gain credibility from the kids, but asked whether another word could be used, I can imagine lots of guesses.
Kids will love this new book, full of humour and celebrating some unknown animals, while encouraging lots of fun with words. Jim Field's lively illustrations add another level of fun and humour, and I loved following the looks on the animals' faces as they sit on their pairing word.
A whole heap of fun.
Themes: Humour, Animals, Alphabet.
Fran Knight