Off the map by Scot Gardner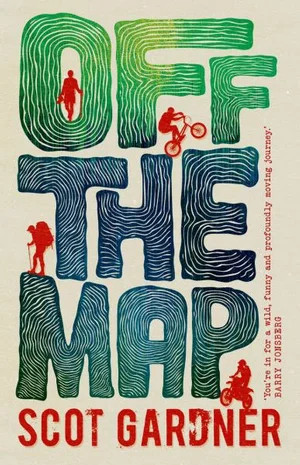 A book of short stories by award winning Gardner is a treat revealing a quirky interest in the ordinary lives of his mainly male protagonists dealing with unusual and sometimes bizarre situations. The opening story, 'Answers' belies its title, giving none! But it sets in train so many questions both by the people in the tale, and then by the readers, that it stays firmly planted in the mind for some time after closing the book, asking that infernal question, 'what if'? The fifteen stories are all as different, compelling and fascinating as the first, asking readers to question.
A group of kids sit on the beach in 'Bad Billy' trying to outdo each other with stories that scare and frighten. The group reveals a range of kids; brash and confident, unsure and bullied, caring and disinterested, until the quietest one reveals a tale of his imaginary friend. In 'The tunnel', bravado spurs the trio to explore the tunnels beneath their streets, revealing the strength and weaknesses of their friendship as they struggle to find an escape route. Several stories use a wild place called the Magellan Peninsula as the back drop. One involves a school camp and a lad who loves to cook, another is far more poignant ('Magellan') and chronicles the weekend when mum died. And several more, 'Stray' and 'The Kid' also deal with death.
One that gave me cause to reflect but also made me laugh out loud was 'Karma', the story of two teens going with Mum and her new boyfriend to camp for the weekend. He is a narcissistic drop kick and eventually even Mum sees what her kids see and they leave. But his behaviour is mind bogglingly stupid and irresponsible and will make readers think about what they see. It was galling to realise that I was laughing at his appalling behaviour!
Gardner's books have an underlying motif of masculinity and what makes a man bubbling away and many of the stories will make people stop and digest the ideas presented.Each story is short, pithy and well written, presenting one or two protagonists who are cleverly described in just a few lines.
Any of Scot Gardner's books make for an instant popular class set and teacher notes are available. Teens, particularly boys, will love reading of people their own age in situations not dissimilar to their own, making choices about how they behave.
Themes: Short stories, Death, Humour, Bullying, School, Masculinity.
Fran Knight