Norton and the borrowing bear by Gabriel Evans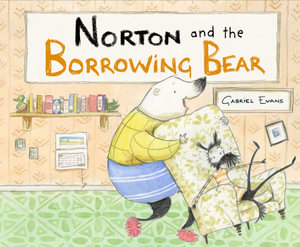 The author of Norton and the Bear, shortlisted in the Children's Book Council of Australia's Picture Book of the Year Award 2021, has written a companion book, Norton and the Borrowing Bear. In this beautifully written story, Norton learns a valuable life lesson after he invites Bear, who has moved in next door, over for dinner. Norton is so keen to have a friend in his busy bustling neighbourhood living next door. The evening is very pleasant but ends with Bear wanting to borrow Norton's slippers. While Norton allows him to, it does not sit well with him and he worries all night. The next day Bear borrows even more of Norton's precious things, his teapot and cup, his yoga mat, calming flute music and peace lily picture, his new jumper and finally his special chair. That is the last straw for Norton and he loses it with Bear. Bear is embarrassed and returns the borrowed items. Will Norton and Bear be able to salvage their friendship and learn to accept each other as they are?
Younger readers will love hearing this story read aloud and looking at the detailed illustrations. A perfect addition to any home, school or public library.
Themes: Borrowing, Sharing, Friendship, Communication.
Kathryn Beilby