Noongar Boodja Waangkan Noongar first words by Jayden Boundry and Tyrown Waigana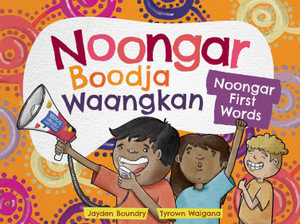 The importance of learning and recognising First Nations language is beautifully represented in this new release, Noongar Boodja Waangkan - Talking on Noongar Country. This brightly illustrated non-fiction picture book is written in Noongar and English and is a collection of first Noongar words. The striking and colourful cover draws the reader to the book and the front endpapers show the area of the south-west corner of Western Australia where the 14 different groups of the Noongar nation live.
For the learner new to the Noongar language, the collections begin with moort (family) and names for ngany (body parts) and moolymari (face). This is followed by names for boodja (country), boorn wer djet (trees and flowers), boodja (land), kep (water) and worl (sky) barna (creatures) as well as bonar (seasons). The seasons are represented by six bold circles called kambarang, birak, boonaroo, djiran, mookaroo and djilba. Throughout the book is the opportunity to learn Noongar words for greetings, feelings, numbers, colours and movements. The final double page spread focuses on Noongar-midi (things) including kitj (spear), wana (women's digging stick) and woonda (shield).
This is a wonderful book to share with children and to foster an appreciation and understanding of First Nations languages throughout Australia. A Pronunciation Guide introduction is available.
Themes: Noongar Language, First Nations people, Western Australia.
Kathryn Beilby