Nettle & Bone by T. Kingfisher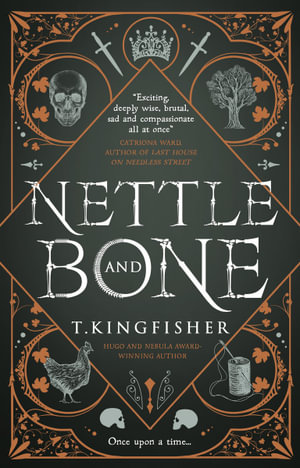 Marra is the third born princess and has been sent to live in a convent, away from the machinations of the court. Her eldest sister has died at the hands of a Prince, and her second sister is now married to him and is being abused. Desperate to do something about this, she determined to kill the prince and rescue her sister. But she cannot do this alone, so she enlists the help of a grave witch, who gives her 3 impossible tasks to do before she has the tools to assassinate the prince.
The book opens with a dark scene of Marra completing the first task of building a dog out of bones, which cannibals have left behind. Her second task is equally as difficult, she must make a cloak of nettles and when she completes this, she has a third impossible task. However, she manages to do this, and the grave witch finds her the help of a hedge witch, a demon chicken and Fenris, a disgraced knight. The group set out on their quest, with many adventures on the way.
Kingfisher's writing is humorous and snarky, with funny dialogue to lighten the dark moments. Each of the characters stand out vividly and the slow burning romance between Marra and Fenris is a delight. It was easy to empathise with Marra's wish to kill the Prince as the abuse the two princesses have suffered becomes apparent. The political sacrifices that the Queen and princesses make to keep it safe are thought provoking and these ethical decisions enrich the story.
The world building is strong and easy to imagine but it is the group of five, each with unique skills and personalities, which linger in the memory.
Nettle & Bone is original, another book highlighting Kingfisher's creative writing. Readers may wish to continue with other books by the author like The twisted ones and The Wizard's guide to defensive baking.
Themes: Fantasy, Quests, Domestic violence, Magic.
Pat Pledger