Nerd Herd: Raging wool by Nathan Luff and Chris Kennett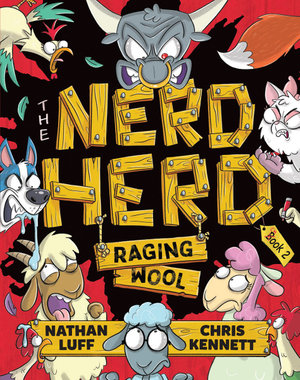 This is the second in the Nerd Herd series and follows on immediately from the first book. A quick recap in the first two pages explains that a lamb, a llama and a goat have just scared a fox away from their petting zoo. While doing so they removed an electric fence from the bull pen and "completely unrelated, but, somehow the bull escaped".
Barny the lamb, and his friends Shaama Llama Ding Dong (the llama) and Billy the angora goat are now desperate to return the bull to his pen without any trouble and before the humans wake up. They want to prove they are NOT the meek and mild 'Nerd Herd' but are the fierce and ferocious 'Woolly Bullies' - a much more respectable name!
They come up with multiple plans. Most of the plans are not good, but one is "less not-good than the others" so they work on executing it with various mishaps and silliness along the way. The friends work together well, demonstrating an understanding and support of their own and each other's strengths and weaknesses.
There are countless puns and corny word plays that make for groans and laugh out loud enjoyment from kids and adults alike. I finished it in one sitting as the chapters are short, and the story is fun and fast paced.
The book is highly illustrated with plentiful use of bright red and lots of speech bubbles and comic panels. This makes it accessible to a variety of independent reading levels while also being an enjoyable read-alongside book for young readers. This would appeal to those who also enjoy Magda Szubanski's Timmy the ticked-off pony series or Andrew McDonald's Real pigeons series.
At the end a surprise event paves the way for book three – get ready for more hilarious adventures from this woolly trio!
Themes: Animals, Friendship, Humour, Problem solving.
Kylie Grant