Nature's song by Robert Vescio. Illus. by Nicky Johnston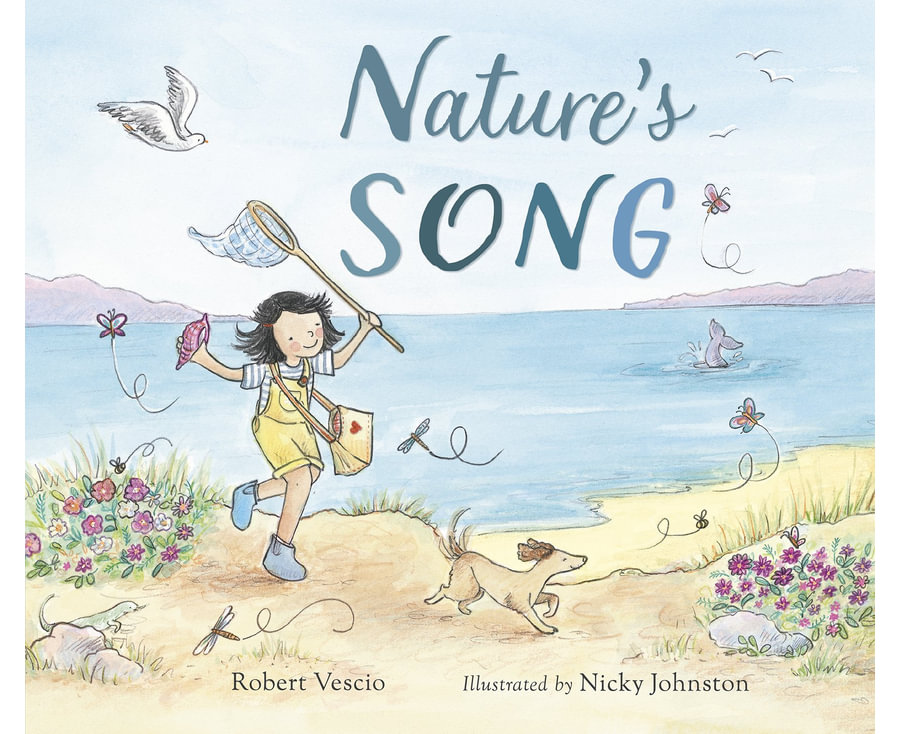 Aiming to bring the outside world inside for her housebound brother, a little girl sets out into the garden and foreshore nearby. She has been impatient to go, aware of the neighbourhood calling her, but she must wait for her mother to say so.
At last she is allowed to roam outside: she wallows in the comfort of the outside world, breathing in the blooms, looking at the myriad of tiny things she spies along the foreshore. Life is not only smells and comforts, but it creeps and crawls, skips and bounces towards the sea. She sits on the jetty watching the fish and the birds and dolphins, then begins to collect things to make her brother smile again. Her little dog brings in some seaweed, she collects driftwood and shells, flowers and leaves. She takes the things back home, using them to make a map of where she has gone, marking the spots where she found the things she collected. A map he can treasure.
A warm hearted story of love between siblings as the boy is holed up inside and his sister collects things to keep him in touch with the outside world. She scours the wild places outside and then the foreshore where she adds to her collection of things often overlooked. In taking them back to her brother, children will see what has happened to him and talk about the restrictions such an injury has on someone.
They will love looking for the variety of different things illustrated in the book, perhaps adding a few more things to her collection as they make up their own treasure map.
Nicky Johnston's use of pencil and watercolour give a soft edge to her illustrations, inviting readers to share their own experiences of collecting things, particularly by the sea, and marvelling at the vistas she sees along the way.
The end papers give readers an exercise in following maps and will encourage them to make their own.
Themes: Sea, Siblings, Environment, Maps, Housebound children.
Fran Knight