My life as a cat by Carlie Sorosiak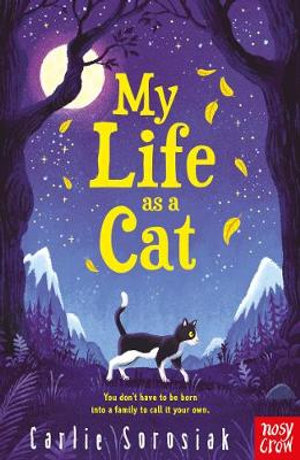 This book is a delightful, warm and thought provoking story about an alien who comes to Earth as a cat! That just sounds just stupid. However . . .
Leonard is the narrator and a thoroughly likeable alien/cat. The story unfolds from his point of view. Aliens from his galaxy live in an efficient manner within "hives". Every three hundred years they can travel to Earth to live as a human. They train for this, choose what type of human existence they would like to experience and most importantly they must be at a certain place on Earth at a precise time in order to return safely to their galaxy. The consequence for not being at the meeting point is to lose immortality and remain forever on Earth.
Leonard was intrigued by the lifestyle of Park Rangers in Yellowstone National Park but he made a mistake on his journey to Earth. Instead of arriving in the form of a Park Ranger, he arrived in a cat's body, stuck in a tree, in a flood, in Florida. He was rescued by a friendless young girl called Olive, who because of difficulties with her mother's new boyfriend, was staying with her grandmother.
A strong relationship develops between Olive and Leonard. The reader is held in suspense as Leonard thinks his way through problematic situations as he tries to maintain the pretense of being a cat. He needs to find a human who he can trust with his life.
The story is about the nature and qualities of trust and friendship, choices and what is important in life. Other topics include family breakdown, mental illness, loneliness, individuality, friendship and the human relationship with animals.
My Life as a Cat is a beautiful and unusual book which would be enjoyed by Primary and Middle year students.
I will never look at cats the same way again! Possibly they are all aliens!
Wendy Jeffrey