My first green cook book by David Atherton and Alice Bowsher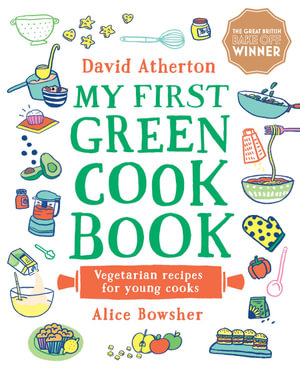 David Atherton, winner of The Great British Bake Off 2019, has written his second cook book for children, My First Green Cook Book. It follows his first book, My First Cook Book: Bake, Make and Learn to Cook which has inspired a generation of young cooks. This newest book focuses purely on simple, easy to cook vegetarian recipes and will be an asset to those families who follow this style of eating. The Contents pages contain many recipes set out under the headings of 'Yummy Meals', 'Savoury Snacks', 'Sweet Treats' and 'Showstoppers'. Each recipe is set out on a single or double page spread and features a list of ingredients, an introduction to the dish with the method clearly set out on a step-by-step table with large colourful graphic style illustrations. Recipes include the Curry Korma Bowl, Spooky Carrot Soup, Cauli Hot Wings, Cheesy Nutty Gnudi and Apple Rock Cakes. The final pages of Showstoppers include four recipes for each of the seasons: Spring Butterfly Cupcakes, Summer Sandcastle Cake, Autumn Woodland Cake and Winter Reindeer Puds. This book is not just purely for children or vegetarians, it would suit cooks of all ages who love to follow new recipes in a very easy format.
Another fabulous resource for home, school or public library or a perfect book to gift an aspiring young cook.
Themes: Cooking, Children, Vegetarian, Recipes.
Kathryn Beilby