My first book of Aussie animals by Gordon Winch. Illus. by Stephen Pym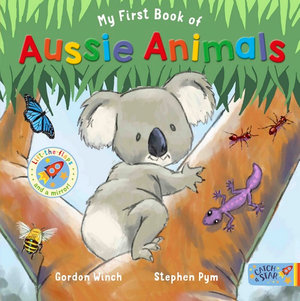 Very young children will be fascinated by this lift-the-flap book that features well known Australian animals, the kangaroo, koala, platypus, echidna, and possum. The refrain 'Look at me. What do you see?' will be one that children will want to repeat with the reader and then they will have fun lifting the flap to discover what is underneath. The text describing each animal is simple – four lines of information that is easy to understand but which points out the main features of each animal. Emerging readers will also have fun repeating the refrain and reading the details about each animal, all of which is printed in clear print.
The illustrations are ones that children will like. The kangaroo and its joey have smiles on their faces, while the night sky and dark trees that form a background for the ring-tailed possum, clinging to a fence, are gorgeous. Children will be fascinated by the little details that are on each double page spread. There are pictures of butterflies, flowers, birds and lizards on every page, and these will provide lots of opportunity for young children to learn about the environment where the animals live. And the last page features all the animals for the child to find and has a bonus mirror which will provide lots of fun.
Not only will young children learn about five iconic Australian animals but will learn about plants, birds and other animals from the cute illustrations in this sturdy board book.
Themes: Australian animals.
Pat Pledger