My first 100 weather words by Chris Ferrie. Illus. by Lindsay Dale-Scott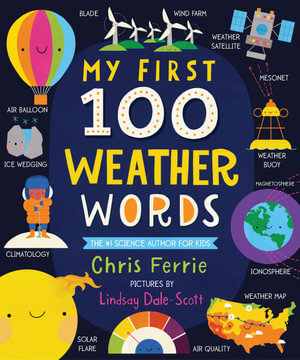 With Chris Ferrie's background as a physicist, mathematician, and father of four children, the reader can expect a fascinating list of 100 words relating to weather. The very young can listen to the easier words like wind, rain, clouds and instruments and learn a slew of new words like natural disasters, climate zones and weathering. Ferrie obviously believes that it never too early to challenge the young with new vocabulary and both adults and children will have fun learning new words and concepts.
The illustrations by Lindsay Dale-Scott complement the words and expand on their meaning. They are bright and colourful. Each double page spread has 8 to 12 words, each illustrated. Often the pictures have cute little faces on them, and these will be appreciated by the very young.
Older children who are interested in science and the weather will be able to learn much from this well produced, sturdy little book. A little gem to have in the home or in a school library.
Themes: Weather, Vocabulary.
Pat Pledger