My first 100 bug words by Chris Ferrie. Illus. by Lindsay Dale-Scott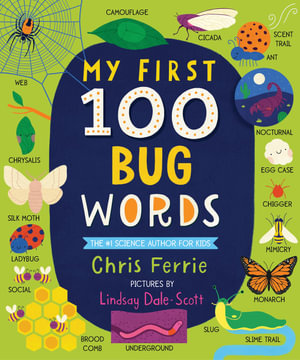 The duo Chris Ferrie (physicist and mathematician) and illustrator Lindsay Dale-Scott have come up with another fascinating book containing 100 bug words. Each double page spread of this brightly coloured board book features a category of insects and 8 to 12 words associated with those insects. The book opens with the familiar group of Bees, wasps, and ants and contains the word colony, showing ants taking food to the nest following a scent trail. On the opposite side of the page are the words Yellow jacket, Spider wasp, Honey bee, Bumble bee all illustrated, while there is a brood comb for the honeybee and the bumblebee is shown pollinating a flower. The spider wasp is solitary while the honeybee is social. An amazing amount of information is given just on these two pages, with the gorgeous illustrations expanding the reader's knowledge.
The following pages include Centipedes and Millipedes, Worms, Gastropods, Spiders, Scorpions Ticks and Mites, Flies, Beetles, True bugs, Mantises and grasshoppers, and finally Butterflies and Moths. All follow the same structure, with appealing illustrations. There are simple words for the very young and more complicated scientific labels that will engage the interest of the older reader, while adults will enjoy learning more vocabulary as well.
Young children will be introduced to new words and concepts about bugs, while recognising familiar insects like butterflies and spiders. This sturdy board book will stand up to a lot of handling and its padded cover will intrigue the user. Reading this book with young children is a clever way of increasing vocabulary and encouraging curiousity and learning.
Themes: Insects, Spiders, Worms, Ants, Butterflies.
Pat Pledger