My dad thinks he's a pirate by Katrina Germein. Illus. by Tom Jellett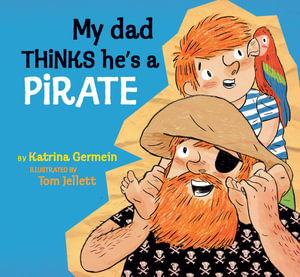 Another book in the My Dad thinks series (My dad thinks he's funny and My dad thinks he's super funny) will delight fans as this time Dad thinks he is a pirate. The family are off to the beach and Dad can't resist his corny jokes. Wordplays and jokes like 'Here's our ship. I bought it on sail'' and 'The sea is so friendly. It always waves' are strewn throughout the narrative with the refrain, 'My dad thinks he's a pirate' popping up at the end of each double page spread.
It is fun to read aloud, and children who are independent readers will appreciate the play on words, sure to bring giggles as well as some groans. It is easy to relate to the story as many readers will know a relative or friend who delights in the sorts of jokes and wordplay that is found in the My dad thinks books.
The illustrations of dad with his ginger beard, shirt with skull and cross bones on it, and hairy legs are hilarious, and the pictures add another dimension of humour to the jokes.
My review copy came complete with a black eye patch, and I know my son and grandson are going to have great fun with this book. It is sure to leave the reader happy and will be a hit with its audience. A great gift for Dad for Father's Day or for a laugh anytime.
Themes: Pirates, Humour, Puns, Father's Day.
Pat Pledger