My brother Ben by Peter Carnavas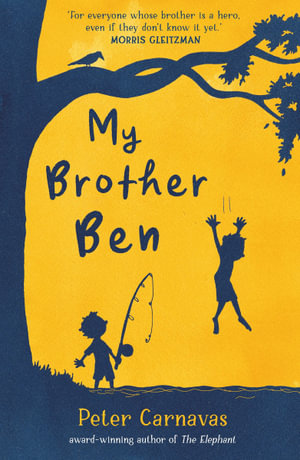 This is a moving, positive story about two brothers growing up near a creek who dream of having a boat to explore their world from the water. Luke is the main character and narrates the story which begins with them finding an injured magpie and nursing it back to health. He is a timid boy who shares his love of birdwatching with his aunty Gem and loves to draw. He can identify most of the local birds by sight and bird calls and this part of the story adds so much for readers who enjoy nature and the world around them. In contrast his older brother Ben, who has just started High School, is confident and reckless, and fiercely protective of Luke.
The story follows the boys in their quest to create the winning entry to win a boat in a local competition that challenges them to make something that celebrates Cabbage Tree Creek. The boys decide to make a guidebook featuring Luke's bird drawings of as many of the birds they can find near the creek. But Ben's attention seems increasingly to be taken by a new girl who has moved into the area.
The story explores the dynamics between these three characters, the changing aspects of a family whose parents are separated and the frustration Luke feels as his older brother grows and changes. It is an important story for all boys to read with short chapters and simple dialogue making it accessible to a wide range of reading abilities. The inclusion of bird sketches throughout the book is a welcome addition to an outstanding novel.
Themes: Siblings, Trust, Birds, Drawing, Boats.
Gabrielle Anderson