Mr Ming and the mooncake dragon by Kathy Creamer & Amy Calautti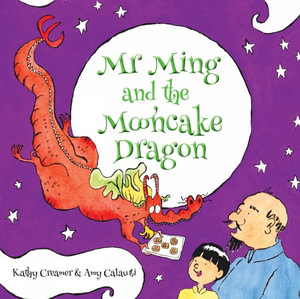 Mr Ming and the Mooncake Dragon is a lively and entertaining read for children. Mr Ming runs a little shop which sells everything, in the bustling city of Singapore. He is famous for his mooncakes which are baked in his tiny kitchen and are sold at mooncake festival time along with painted lanterns. There is a secret though which Mr Ming will not share with anyone who asks for his mooncake recipe. He has a dragon in his kitchen who makes the mooncakes using all sorts of interesting ingredients as well as two very special ones. A greedy shop owner, Madam Moneybag, hears about these amazing mooncakes and tries to buy the recipe. When this does not happen, she creeps in during the night to steal what she can. However, the dragon saves the recipe from being stolen and teaches Madam Moneybag a lesson.
This is a story that children will enjoy as the dragon has very special powers, Mr Ming is very kind, and the evil Madam Moneybag is not happy with where her story ends. The story is quite a bit longer than the traditional picture book length and younger readers would benefit from it being read aloud. Older primary school aged children will enjoy the bright cartoon/graphic style images which complement the text perfectly. This book will be an excellent resource to share with children when the Mid-Autumn Festival, also known as the Moon Festival or Mooncake Festival is celebrated.
Themes: Singapore, Mooncake Festival, Dragon, Good vs Evil, Recipes, Diversity, Greed.
Kathryn Beilby