Mr Men Little Miss in Australia by Roger Hargreaves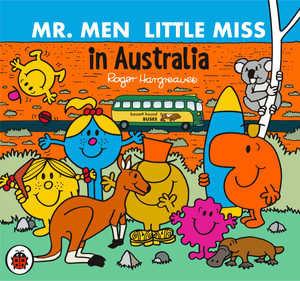 The Mr Men and Little Miss are heading down under – or 'up over' as Mr Topsy Turvy would say and I couldn't love this more. I have always liked the Mr. Men books and their simple stories that engage young readers so I really wanted this book to feel similar to my childhood memories and it exceeded my expectations and will be one that I keep on my shelf both at home and in the classroom.
This is the story of all the Mr. Men and Little Miss characters that children will be familiar with coming to Australia. They take a logical journey around our wonderful country - and by that, I mean that they start in Sydney, head to Tasmania before coming back to Melbourne and then heading west. They do not jump all over the country, which frustrates me as it minimises the size of the country.
The illustrations are amazing and the vibrancy of the colour palate make the Australian landscape come to life, as each character gets to do something they have wanted to do or that fits with their personality. The book includes something of interest for each place they visit, highlighting some of Australia's most famous landmarks while also including others that might not be as well-known thereby introducing them to the young reader in a fun and interesting way. This is a book that is sure to delight Australian children and their international friends.
The familiarity of the characters and their personalities are perfectly reflected in the book from Mr. Greedy finding a food he won't eat, to Mr. Mean being upset there isn't gold to be found on the Gold Coast, the book felt like revisiting an old friend. This is a perfect book to introduce children to the Mr. Men characters as well as for adults to reconnect with childhood favourites. I highly recommend this book for both home and school use, as I can see many ways that it could be used in the classroom.
Themes: Mr Men and Little Miss, Australia, travel, friendship.
Mhairi Alcorn