Mr Bambuckle's Remarkables Join Forces by Tim Harris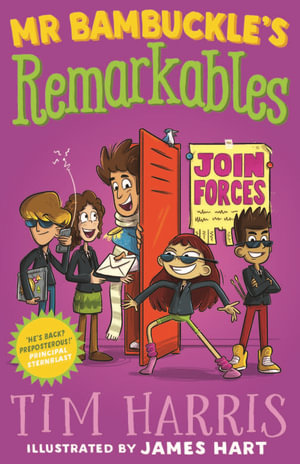 Mr BamBuckle's Remarkables Join Forces, written by well-known author Tim Harris is the fifth brilliant addition, to an already popular series. However, it doesn't matter if you haven't read the previous titles, you can simply pick this one up and enjoy. But be warned, it will leave you clambering to get the other four books quickly!
Most children would love to be in class 12B, with Mr Bambuckle as their teacher. He is not only inspiring, intriguing and empathetic, but maybe a little bit magical too. Every class member feels welcome and is encouraged to stretch their thinking and challenge themselves. However, while 12B's classroom is very inviting, even to four newcomers whose school has just closed down, the principal is not! Principal Sternblast is just as his name suggests. A mean man, who has a wicked scheme in place to turn his school upside down. He wants to create a school for high achievers, where he will get paid more and have new students join, but old students who do not pass the academic test will have to find another place to be educated. The class is horrified and don't know what to do. Will 12B be able to come up with a plan to save their school or will they be forever displaced and never experience the fun of learning with Mr Bambuckle again?
Tim Harris has written another fast paced and entertaining novel. This story will make a terrific read aloud to children aged 7–11 years of age. The creative illustrations by James Hart provide the reader with further enjoyment and imagery. The first few pages are filled with trade card style pictures of each character, including their likes and dislikes. This enables the reader to immediately make connections with the characters. A great book for young readers who enjoy a laugh, but also with an underlying message; that everyone can make a difference if they believe in themselves and especially when they join forces!
Themes: Humour, Friendships, School, Environment,.
Michelle O'Connell