Moose's book bus by Inga Moore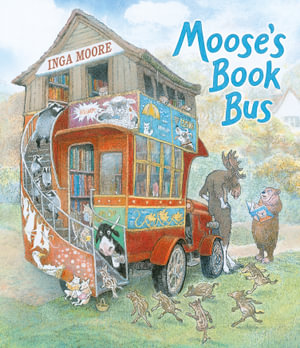 When Moose tells a story to his family each night, they are transfixed. But one night he runs out of stories. He visits his neighbours, Bear, Badger and Fox but not one of them has a book he could use. And neither does Hare, Mole, the Wild Pigs and even the Beavers. No one has a book to lend him, so he goes into town and visits the library. The librarian offers him a stack of books: Red Riding Hood and Cinderella, and Puss in Boots. He takes them eagerly and that night reads a story to his family. Bear's family has come in to listen as well, and the next day Mrs Bear tells Badger and so each night more of their neighbours knock at the door to listen to a story. Mrs Moose is rushed off her feet keeping up with mugs of cocoa and the sitting room is beginning to resemble a sardine can.
Moose buys an old bus from the caryard and fits it out like a library which the librarian fills with books. Everyone is happy but when Moose suggests that the others read stories to their families in their own homes he is dismayed to find that none of them can read. So Moose teaches them. Another problem solved.
After that the animals can borrow their own books from the library and take them home to read with their families, but some still go along to the Moose household to listen to Moose, as sharing reading is wonderful.
This celebration of reading reinforces the value of reading to a younger audience. They will be thrilled to hear the titles, Red Riding Hood and Cinderella amongst those mentioned, and sure to ask for them to be read to them after this book is finished. The value of learning to read is encouraged through the book, and all is wrapped up tightly with family and friends, sharing and hospitality.
The understated illustrations are full of life, and eager eyes will dart around the pages recognising the variety of English animals which can be spotted. I love the depiction of the animals in human poses: Moose's crossed legs made me laugh out loud, while
the image of a cluster of offspring and a parent on the couch is priceless. Readers will love counting all those offspring, working out the names for each, working out which story is being read and enjoy the importance given to reading and books, libraries and librarians.
Themes: Animals, Books, Libraries, Problem solving, Librarians, Humour, Family.
Fran Knight