Mole's spectacles by Julia Donaldson and Axel Scheffler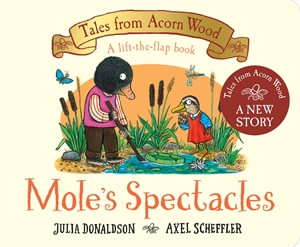 A sturdy board book with humorous verses from Julia Donaldson, will certainly please the younger audience it is aimed at. Easy to hold and fold back to make a flat book, the story will be a treat for younger readers listening to the words, looking at the detailed illustrations, predicting a rhyming word or two, and enjoying the fun of the search for the lost spectacles. Mole cannot find his glasses anywhere and here is a wonderful opportunity for older readers to talk about the low vision of moles.
He searches everywhere, in all sorts of places in the house and garden. He looks around his reading room, then searches the dresser, tries to find them in the kitchen, then looks through his desk, even the bathroom and cellar are searched. In the garden he scours the lily pond, then walks to weasel's shop, calling on his friends to help. The glasses still cannot be found. But when he gets the teapot out to make a cup of tea for his friends, they are found. And in the most unlikely of places.
Another surprise awaits the readers on every page because as Mole searches he is able to lift flaps to reveal something inside, but not his glasses. Younger readers will have a great deal of fun with this verse book, as will the older readers helping them lift those flaps.
The bright illustrations show Mole as he searches, getting more forlorn as he goes. The detail will intrigue younger readers as they recognise things that are used in a particular room, recognise the plants and animals he sees, and rejoice with him when the spectacles are found.
Themes: Search, Animals, Mole, Spectacles.
Fran Knight