Mikki and me and the out-of-tune tree by Marion Roberts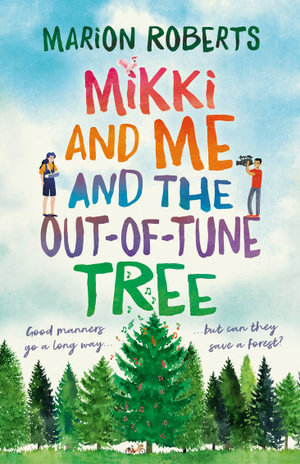 Mikki and me and the out-of-tune-tree, written by Melbourne based author Marion Roberts, is a joyful, hopeful and delightfully quirky novel for the middle years age group. Written in the first person, the reader sees life through the bright and observant eyes of eleven-year-old Alberta Bracken.
Alberta leads a rich and interesting life, surrounded by friends and family. Roberts depicts the pivotal characters in Alberta's life with great intuitive accuracy, drawing them out in the way an eleven-year-old would view them. Alberta has to negotiate many difficulties in life. Her father has had an affair with Ursula Hoffman and her mother has kicked him out of home. Everybody in the small community of Kingfisher Bay know and Alberta has to wear this. Her mother, with her best selling book Tammy Bracken's Guide to Modern Manners is preparing for an upcoming TED Talk and, ironically, Alberta has discovered that she is a kleptomaniac. Alberta has an hilariously irritating younger sister Clementine. A keen boogie boarder, Alberta loves nothing better than catching sets of waves with her friends. However, her friends are ghosting her and the town bully, Seth Cromby actually deliberately knocks her off her bike resulting in a broken arm and a summer break of no surfing.
Enter the delightful Mikki Watanabe, whose parents have a holiday house in Kingfisher Bay. Mikki invites Alberta to help him make nature documentaries about the private lives of trees. A whole new world of eco-warriorhood opens up for Alberta when she and Mikki start a social media nature channel on Youtube. Thousands of followers are gathered and an issue that brings the town together is initiated by Alberta and Mikki.
The whole issue of trees as sentient beings, of the right to life of 'introduced' species, of the ability of trees to communicate plays into the story. Although the presentation of cross cultural relationships in novels has become cliched, in Mikki and me and the out-of-tune-tree the friendship of Alberta and Mikki adds a crucial dimension to the novel. In fact what Mikki brings to the story is the special sympathies of the Japanese culture towards nature.
Mikki and me and the out-of-tune-tree is full of action and humour. Alberta learns that people are not perfect but that with effort and friendship, drive and can-do, good things can happen. Bad things can be turned around.
A delightful, recommended read for Middle Year readers who enjoy fun fiction with added depth of theme. Teacher's notes are available.
Themes: Environmental activism, Tree-talk, Cross-culturalism, Family, Community, Friendship.
Wendy Jeffrey