Melody Finch by Ian Boyd and Gary Luck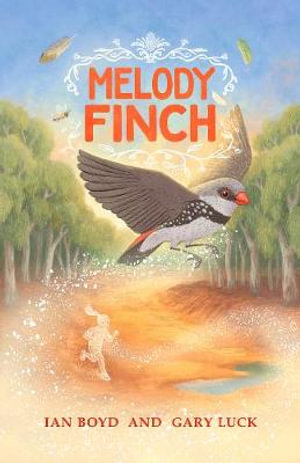 Melody Klomp, from drought-stricken Charleville in Queensland, regularly visits her Nanna Bell on the Coorong in South Australia. Nanna Bell is passionate about the wildlife in the Coorong region and knows that the plants and animals, as well as her ecological boating tours, are suffering from the effects of drought further along the Murray Darling Basin River system. On returning home to Charleville Melody finds herself transformed into the body of a Diamond Firetail Finch and she learns from the secret frog network that the big rains are coming. Melody knows she must travel south along the river system to tell Nanna Bell that the rains are on their way and not to sell her beloved boat, The Isabella. Melody's journey is one of great risk, fear and wonder. She finds friends amongst the bird and wildlife population especially a Rainbow Bee-eater named Ramon who supports her through some very difficult challenges. She encounters danger from a cane toad, a white goshawk, a human intent on wiping out the seal colony and taking over Nanna Bell's boat as well as a nasty giant osprey named Silverclaw who is cruel to all animals. At the end of her journey Melody discovers an amazing secret about Nanna Bell and with her help and help from the birdlife, the Coorong seals are saved.
This book is an exciting adventure which middle primary children will enjoy. Along Melody's journey there are so many interesting facts to learn both about the wildlife, ecosystems and the environment. This wonderful story reinforces how we must interact thoughtfully with our natural surroundings so animals and humans can live together harmoniously. It would make a great class novel. Information about the authors and the book can be found here.
Themes: Australia, Drought, Sustainability, Australian Wildlife, Family, Danger, Excitement.
Kathryn Beilby