Mega Monster by David Walliams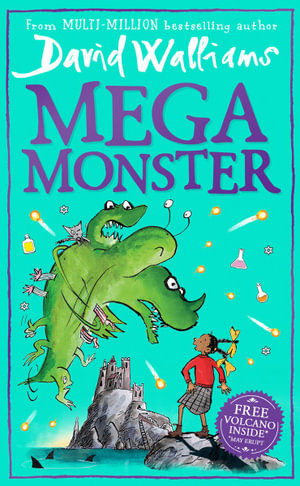 Larker is a girl who is a trickster, a prankster and a teller of bad jokes who has been punished for her 'bad' behaviour by being sent to the Cruel School. This school lives up to its name and is staffed by awful staff who manage badly behaved students. The island home of this school is far from ideal, as it sits on top of an active volcano and is surrounded by hungry sharks. This is no holiday destination for Larker, but her warmth and humour will not be checked, even by the evil Doctor Doktur, the science teacher with a malevolent streak. Larker makes friends with surprising ease despite the horrible circumstances around her and the monster machine, and discovers that working together wins out over the evil forces at play on the island school.
David Walliams' book has all the charm of Dahl's stories with woeful adults and feisty kids, in combination with some creative language, gross things, and some sincerely lame jokes … all of which will delight young readers. Walliams and Dahl have essentially cornered the market on naughty stories that delight children. The illustrations by Tony Ross are delightfully scattered through the book revealing the silly characters as caricatures and cartoons in an amusing style. This book will be loved by readers aged 8-13.
Themes: Monsters, schools, jokes, Good vs evil, comedic adventure.
Carolyn Hull