Maxwell's demon by Steven Hall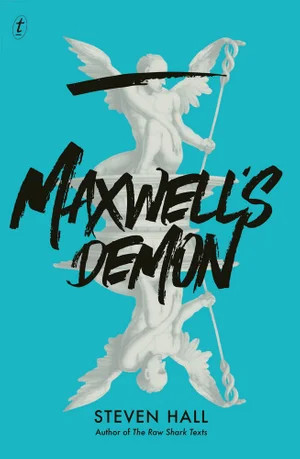 Thomas Quinn's life is not all it could be. His father was a famous man of letters, poet, journalist and war correspondent. Thomas is noted only for being Dr Stanley Quinn's son. His wife is away on Easter Island on a long term research project and they connect via video link. He watches her sleep along with thousands of others via the web.
Thomas wrote a book six years ago, but nothing significant since. Life is frustrating! When his father's old assistant Andrew Black, the author of a very famous novel Cupid's Engine, contacts him, his life begins to spin out of control. Since publishing Cupid's Engine, Black has been reclusive. He gives no interviews and has vowed never to publish again if his work is published electronically.
Steven Hall has written a novel which is intriguing - the initial story of Thomas Quinn draws the reader into his thoughts and problems. However when Hall delves into the philosophical, theological and scientific world it left me frustrated. The references to entropy, angels, the Second Law of Thermodynamics and Biblical theories were not where I wanted to be led by a narrative that was on the surface a mystery.
The eventual solution found by Quinn after painful self doubt and questioning of his own sanity was as unsatisfactory, to this reader, as the concepts suggested by the author throughout the book. Maxwell's Demon may be innovative but I would have enjoyed it far more without the innovations.
Mark Knight
Themes: Mystery.