Masters of disguise by Marc Martin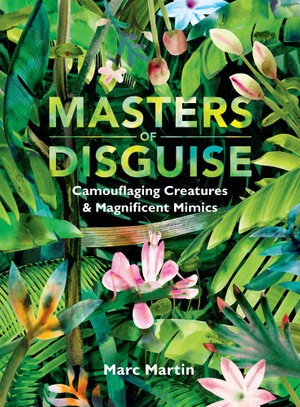 Masters of Disguise : Camouflaging Creatures & Magnificent Mimics is a beautifully presented non-fiction book discussing a number of creatures from around the world that are able to camouflage and mimic in their own particular habitat. The endpapers take the place of a Contents page and cleverly provide the reader with the name of the twelve creatures introduced and discussed as well as showing where they are to be found on a map of the world. Some of the creatures discussed are the Panther Chameleon, Gaboon Viper, Orchid Mantis, Three toed Sloth and from Australia, Leaf and Stick Insects. The author gives a brief explanatory introduction about the creatures, habitats and a message about the need for protection. The stunning illustrations and setting out of the text on each double page spread is visually appealing and will engage even the most reluctant reader. The information is clearly presented with easy to grasp facts about the creature. Following these pages is another double spread encouraging the reader to find a number of the previously discussed creatures camouflaged in their natural habitat. This book provides the reader with information, striking images and the opportunity to use number and visual skills. A wonderful addition to any home, school or public library.
Themes: Animals, Camouflage, Disguises, World Habitats.
Kathryn Beilby