Marie Curie and her daughters by Imogen and Isabel Greenberg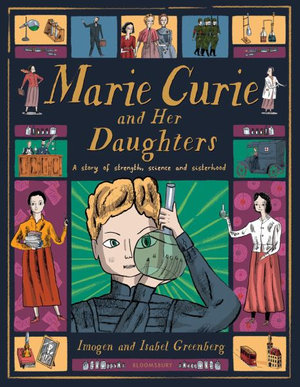 Marie Curie's story as a female pioneer in Science and her important discoveries led to her becoming a well-known and much revered figure in history. However the story of her two daughters, Irene and Eve, is less known. The three Curie women were all extraordinary in their own right and travelled the world. Marie and Irene shared their scientific research, knowledge and discoveries as well as saving lives in both world wars and wining a number of Nobel Peace Prizes. Eve, the youngest daughter, became a well-known writer, journalist and UNICEF employee.
This new non-fiction release, Marie Curie and Her Daughters written by Imogen Greenburg, is a wonderful record of the achievements of the family. It is told in an easy to read and follow manner which will engage younger fans of autobiographies. The graphic-style images by Isabel Greenburg are present throughout the book and encourage the reader to explore the speech bubbles to find out more personal information about the journey of scientific discovery the family embarked on and their daily life as a family. There are hand-written additions to the text which provide another dimension in maintaining the reader's interest.
This book is both informative and inspiring and would be a welcome addition to any classroom, school or public library.
Themes: Science, History, Women, Nobel Peace Prize.
Kathryn Beilby