Made by Morgan by Morgan Hipworth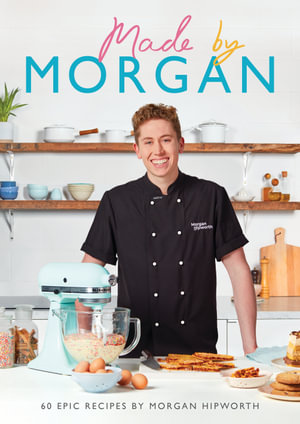 Made by Morgan is an entertaining and attractively presented cookbook by young Australian chef Morgan Hipworth. His journey is quite a story and well worth reading. Only just now in his early twenties, to read of Morgan's continuing achievements is extremely inspiring. He readily admits to being a fussy eater as a young child but through experimenting with food and sharing experiences with his family, he developed a passion for creating dishes to entice his clientele. His earliest signature dish and where he became known as 'that doughnut kid from Melbourne' led him on a remarkable journey. Morgan has a huge presence on both television and social media.
The recipes in this book range from easy to complex and are Morgan's own versions of food he has tasted around the world. The book begins with a Contents page which includes four food chapters under the headings of Breakfast, Mains, Sweet Treats and Anytime, each colour-coded for easy recognition. Following the contents page is a reader-friendly account of Morgan's journey so far and a page about his own cooking style. Each recipe, which may be spread over two-four pages, has a worthwhile guide at the top highlighting total prep time and cook time, serves and difficulty. There are beautiful photos of each dish as well as extra tips from Morgan on many of the pages. The book ends with a very detailed and handy glossary, an index and acknowledgments.
This first cookbook by Morgan has a personal feel to it as he prefaces each recipe with his honest thoughts and comments. For example, when reading the recipe of Massaman Curry with Roti Canal, he openly admits, 'it's far from quick and easy, but I promise it's worth it' or with his Steak Quesadillas, 'you'll find these on my dinner table at least once a week.'
This is a cookbook that will challenge budding cooks at times but is so welcoming in its presentation and style that it will be a hit with those who have followed Morgan's journey or may aspire to achieve their own great heights in the area of cooking.
Themes: Cooking, Recipes, Life Journey.
Kathryn Beilby