Macquarie Junior Atlas of Indigenous Australia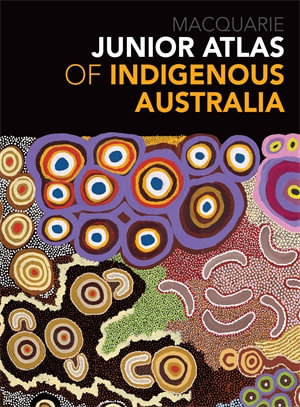 The Junior Atlas of Indigenous Australia is a wonderful resource that will be highly valued in both primary and secondary schools and public libraries as it gives a much-needed visual representation of 60 000 years of Australia's First Peoples.

The front end papers feature a locations map as well as a brief explanation of the areas labelled and highlighted on the map. The contents pages list 27 chapters with the first chapter titled 'Exploring the Atlas' with an explanation of different types of maps as well as special terms and helpful tips. The layout of the book provides the reader with clearly presented segmented information surrounded by displays, images, photographs, maps, diagrams, beautiful artwork, as well as Word Alert, Fast Fact and How Do You Say It pop ups. Chapter 2 focuses on Deep History and the first peopling of Australia. Further chapters include information about Indigenous mapping of place and space, Watercraft, Performing arts, Clothing and shell adornments, Sports, Education as well as many other varied and important topics. The final chapter, Health and wellbeing, discusses recent and relevant health issues for Indigenous Australians in great detail.
The Appendixes section has a note for teachers on mapping conventions and geographies, pronunciation guide, abbreviations, list of authors and acknowledgements for each chapter plus a detailed index. The CBCA New Illustrator of the Year 2020, Jasmine Seymour, a proud Dharug woman, is the educational and cultural consultant for the Junior Atlas of Indigenous Australia. The striking cover design is a collaborative painting called Kungkarrangkalpa Tjurkurpa. This significant book is an important addition to all schools and public libraries.
Editor's note: After a comprehensive, independent examination of the Junior Atlas of Indigenous Australia by Professor Dr Marcia Langton and Professor Aaron Corn; the book has been reintroduced for sale after it had been temporarily withdrawn.
Themes: Australian Indigenous Peoples, Reference, History, Archaeology, Geography, Aboriginal Culture.
Kathryn Beilby