Lucy Newton : Cat Trouble by Phoebe McArthur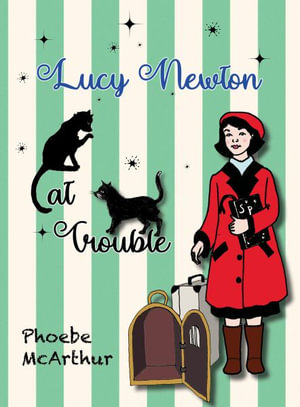 Lucy is visiting her grandparents and is accompanied on the train by her cat Thomas, her doll and spell book... because Lucy is a young witch. She ignores warnings about letting Thomas out of the travel case and after a disagreement with a small dog, Thomas runs off at the railway station, leaving her distressed. Her grandparents reassure Lucy that they will look for him in the morning, but Thomas shows up at their house that evening, after her spell book teaches Lucy a spell to return her cat. Strangely, Thomas is not his usual self, he does not feel soft and silky and his tastes in food have changed.
While Lucy is alone, Thomas encourages her to venture down to the loch, strictly against her grandparents wishes because of the dangers the mischievous kelpies pose.
Help comes to Lucy from some unusual heroes and it is kindness that eventually solves the problems Lucy has encountered.
This is a short but charming story that is full of magical ingredients, apprentice witches, spell books and talking cats, a world that is part ordinary and part magic. Lucy has a habit of ignoring adult warnings and then having to solve the problems she creates. Her spell book is also a 'learner', hence the well-intentioned chaos that ensues.
The author has illustrated the book herself and has divided the story into 11 short easy to read chapters. This is the second Lucy the Witch novel.
I recommend this book for readers aged 5 to 9 years.
Themes: Witches, Magic, Cats, Holidays.
Jane Moore