Lucy and Copper by Mandy Foot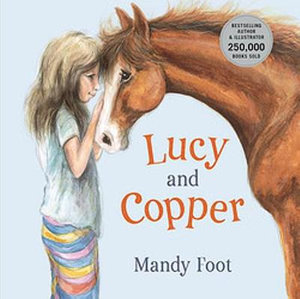 Farm-dwelling Lucy has been best friends with her pony Smudge since she was little. But both Smudge and Lucy are getting older and Lucy is too big to ride her anymore: her toes almost touch the ground and Smudge's feet clomp heavily under the weight. Pa has brought home a new horse for Lucy but she isn't interested. How could any horse take the place of her beloved Smudge? Copper is not the right colour, he is too skinny and bony... Her determined stance not to have anything to do with Copper turns to sadness when she is in bed that night. 'I miss riding Smudge', she says to her dad. Tears flow as she deals with her grief. 'But Lucy, maybe Copper needs you', says Dad. The next morning as day dawns, Lucy has a new, fresh outlook as she saddles up Copper and rides out with Smudge trotting happily next to them.
At no point does the text overtly tell the reader how Lucy feels; Mandy Foot beautifully portrays these emotions through her soft illustrations, Lucy's caring love for Smudge and short smatterings of dialogue. This touching story will resonate with many children who have to say goodbye to things or people that they have grown with over their childhood, particularly pets. It also subtly addresses themes of change, personal growth and emotional resilience. Having the father as main caregiver, who is gentle and nurturing and helps Lucy deal with her emotions is also a lovely touch. Mandy Foot is a stalwart illustrator whose depictions of animals are always stunning. Lucy and Copper is no exception.
Themes: Horses, Change, Growing up.
Nicole Nelson