Love giraffes can't dance by Giles Andreae and Guy Parker-Rees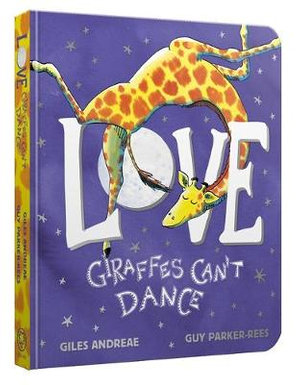 A board book for the very young featuring all the characters from the very popular Giraffes Can't Dance is a boon and sure to be a favourite bedtime story. Starting with the gorgeous yellow end papers festooned with red hearts, the reader knows that they are in for a treat as Gerard the Giraffe describes how love comes in many forms. Written in lyrical rhyming language, this is a delightful expression of love and happiness and is beautiful to read aloud.
I love you like the swaying grass …
I love you like the trees.
I love you like the sound of branches
Blowing in the breeze.
The illustrations are exquisite. I especially liked the expressions on all the animals' faces and the picture of the lion and lioness dancing is a treat. Little stars, butterflies, flowers and insects lurk on the pages and will delight children who like to find small details.
The board book is exceptionally sturdy and should allow some heavy use from toddlers. It is also small enough for little hands to manipulate.
This is a gorgeous ode to love, great for Valentine's Day and lovely to read aloud and remind a child how much they are loved. And children who have not yet been introduced to Gerald in Giraffes Can't Dance are in for a treat, enjoying the story while learning about tolerance and acceptance of difference.
Pat Pledger