Look what we can do! by Candy James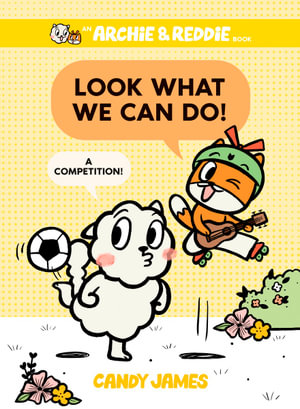 The Archie & Reddie book series, about two fox friends who have lots of fun, continues with Look What We Can Do! This early-reader graphic novel, the third in the series, tells the story of Archie and Reddie who are keen to win a wagon in the local talent show because they have so many books to carry. They already have one idea for the show, their super-special Foxy Friends Swish, but think they will need to add something more to really stand out. Over the course of the story they add a variety of actions, such as swishing and skating, music, juggling, kicking, balancing and singing. They finally realise that it is all too much and choose what they know they can do the best to perform. Archie and Reddie do not win the talent show but do receive a prize.
This story is a perfect example of friendship where two great friends cooperate, plan, listen to each other and speak kindly. Early readers looking for an easy graphic novel format will enjoy this story. Both the text and colourful images are large, easy to read and will keep the reader entertained.
Themes: Friendship, Talent Show, Cooperation, Early Reader, Graphic Novel.
Kathryn Beilby