Little Gem and the mysterious letters by Anna Zobel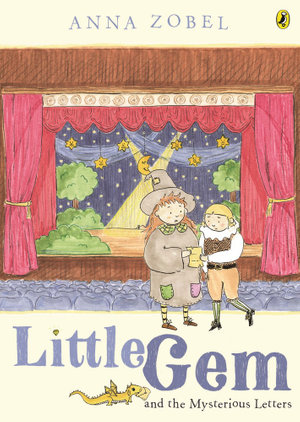 Sequel to the very popular Little Gem (2020) in which the little orphan witch, Gem was introduced, this will be equally read and enjoyed, touching as it does on the theme of bullying. Failing at Witchcraft School and landing in a small town, Elsworth Pining, one hundred years into the future, Little Gem is expected to stay in the Witch's cottage as the town's resident witch. She cannot let them know that she has not completed her studies and with the ghost, Henry to help, tries to be what the townsfolk need. But not all of her spells work they way they are expected to, and the townsfolk are very polite and encouraging, allowing her to practise her craft. Despite the setbacks, with the Midsummer Festival approaching, Gem is asked to do the special effects, but people are dismayed at the results of some of her spells.
And when letters in yellow envelopes arrive, stating that they are unimpressed with her failures and that they want her out of the town, she is distraught. The unwanted letters are horrid, undermining her confidence and sapping her energy. She and Henry resolve to find the anonymous culprit and suspect one person then another, finally unmasking the perpetrator at the Midsummer Play, in front of the whole town. 
Readers will be thrilled to see how the story of Henry the ghost is incorporated into the Midsummer Play, a play acted out each year for four hundred years, detailing what happened to Henry. 
Henry and Little Gem, along with their town friends solve the puzzle, even working out why Little Gem's spells are going awry, and why there is an outbreak of trees growing in the town attracting a specific bug to drink its nectar. All comes right in the end, the wonderful illustrations underlining the humour of the story, giving a face to all the characters that readers love. 
Little Gem is a character to be admired: resilient and determined, she shows tenacity in the face of adversity, striving to be the best she can be. 
Themes: Adversity, Determination, Tenacity, Bullying, Witches.
Fran Knight