Listen, Layla by Yassmin Abdel-Magied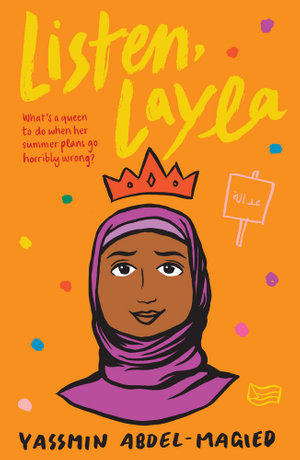 Layla is back! That funny headstrong and impetuous girl that captured our attention in You must be Layla has now got her sights set on the global Grand Designs Tourismo, and the chance to travel the world to meet great inventors. Things look like they are going her way until, out of the blue, her family gets news that Habooba, her beloved grandmother, is ill in hospital and they need to fly back to Sudan to take care of her.

Layla is distraught because she loves inventing things, and the competition is something she has worked so hard towards. At the same time, she loves her grandmother, and her Sudanese family is very important to her.

This second novel by Abdel-Magied is more subdued than the first, Layla is a little older, and the first chapters fill in a lot of the events of the previous book for the reader coming fresh to this story. It includes serious issues such as the Sudanese protests calling for a new government, and problems in Sudan with lack of water, unreliable electricity and accumulating rubbish. There is also Layla's struggle to work out where she belongs, torn between the very different worlds of Sudan and Australia.

Abdel-Magied's second novel for adolescents has strong moral lessons about listening, respecting elders, consideration for others and working as a team. Along the way, we learn more about life within the Sudanese-Australian Muslim family, the values, the prayer time, and the adjustments between country of origin and their new home in Australia.
Themes: Identity, Family, Respect, Collaboration, Teamwork, Revolution, Sudan.
Helen Eddy