Libby Lawrence is good at pretending by Jodi McAlister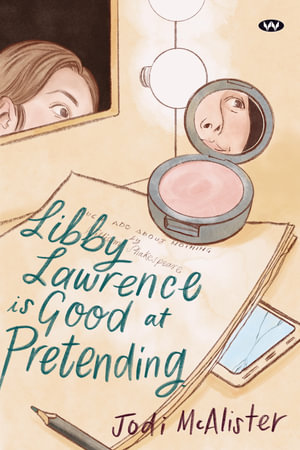 Having enjoyed Jodi McAlister's Valentine series I was keen to read her latest contemporary YA romance and found it very difficult to put down. Libby Lawrence is a first year Uni student, loves acting and belongs to the Uni's theatre group. She has previously worked in the chorus but is thrilled when she is chosen to play the lead role of Beatrice in Much Ado About Nothing by the new director Will to whom she is attracted. Libby is good at pretending to hide her feelings even from her best friend Ella, although she desperately needs to talk about some of the situations that she has found herself in. Theatre groups can be difficult to break in to and Libby has felt left out. Gossip abounds about the cast members and the previous director, Nightingale, was notorious for sleeping with his leading ladies.
The narrative flows beautifully and it is very easy to become totally engrossed in the lives of the main characters. The friendship between Libby and Ella faced some tough moments and was a high point of the story while the slow burning romance between Will and Libby was easy to relate to. Roarke (named by his mother after the hero in JD Robb's In Depth series) was a difficult character to like at the beginning but grew in maturity along with many of the cast members. Underpinning the story were quotes from Much ado about nothing which gave it depth.
The descriptions of how a play is produced and the ways the actors interact with each other and their roles were fascinating and will appeal to people who have not had any experience with a theatre group. Those who love stories about the theatre will be delighted with Libby's experiences.
This is recommended for older teens as it contains references to drinking, partying and sexual relationships. However, the issues discussed in the book are ones that many teens face and make the story very relatable. Teacher's notes by the author are available.
Themes: Theatre, Romance, Actors, Friendship.
Pat Pledger