Let's go! On a plane by Rosalyn Albert. Illus. by Natalia Moore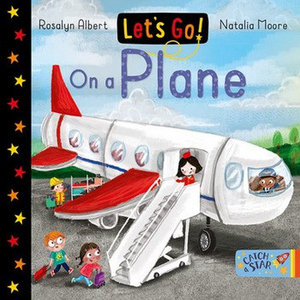 Ideal for the parent who is planning to travel by air with a very young child, Let's Go! On a plane is an enjoyable introduction to this mode of transport. And for those who would like to fly in an aeroplane, this gives all the information that is needed to see how this form of transport operates.
The first double page spread shows the planes ready on the tarmac, with luggage being loaded and flight attendant boarding and from then on, the book describes what can be seen high up in the sky, the pilot in the cockpit and finally the adventure of landing safe and sound.
Written in simple rhymes, it is good to read aloud and Natalia Moore's colourful illustrations give plenty of detail for young readers to explore.
Others in the series that features a mode of transport are Let's go! On a train and Let's go! On a tractor.
Pat Pledger