Kid President totally rules! by Jack Heath. Illus. by Max Rambaldi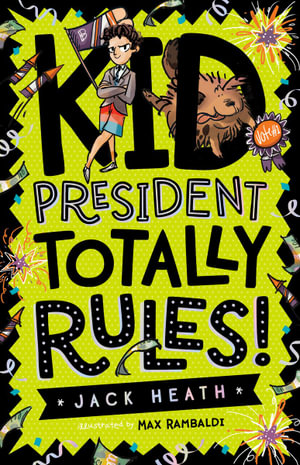 Kid President Totally Rules!, written by Jack Heath is a story with humour and wit that will keep the reader wondering what could possibly happen next. If you enjoy reading David Walliams, Liz Pichon and Andy Griffith you are sure to love this story too.
Jaxxon Mauriz is not your average students by any stretch of the imagination and he certainly is the last person you would nominate as president of anything. He is forgetful, lacks focus and is all about finding the easy way to do something and having fun. However, when he is suddenly thrown into presidency of his country, he moves into action fast. From creating skate parks to free ice cream, redesigning the presidency residence as a go cart track to creating a laser skirmish fortress, everything he wants he can have and all his dreams have come true! Or have they?
When Jaxxon learns his new role has important responsibilities and there are some awful things happening that are damaging the world, he decides to take action.  He is beginning to really enjoy his new role and embrace the new challenges as they arise. Even when world peace is in jeopardy, he manages to cleverly and creatively manoeuvre to diffuse the situation. Jaxxon begins to change the world for the better, much to the disgust of a young trillionaire who has been controlling the country and his own Vice President who wishes to gain power. He is in for the ride of his life and will need to use all his kid skills to outwit these two. Will Jaxxon be able to survive his time in power and right the wrongs that have already occurred or will others' greed and evil triumph!
This is the second stand- alone comedy novel by Jack Heath. Again, he has created highly entertaining characters and intertwined many layers of humour. Combined with terrific illustrations by Max Rambaldi, readers will be thoroughly engaged with the storyline and adventures. This is a story that will keep readers eager to find out what will happen next and keep them amused and interested until the very end.
Themes: Problem solving, Democracy, Rights and Responsibilities.
Michelle O'Connell