Julia and the shark by Kiran Millwood Hargrave with Tom de Freston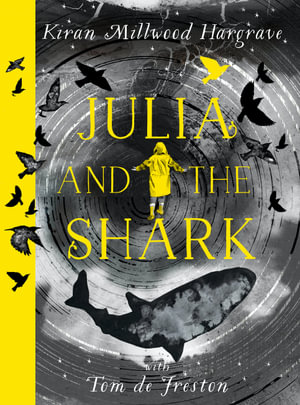 Sometimes a novel is published that resonates with and impacts on the reader. Julia and the Shark is one such novel. Written and illustrated by wife and husband team, Kiran Millwood Hargrave and Tom de Freston, this very deep and meaningful book will leave a lasting impression long after it is finished. Julia is a ten-year-old only child who has left Cornwall with her parents and their cat Noodle to spend two months on the remote island of Unst in the Shetland Isles region. Her mother Maura is a brilliant and talented marine biologist with an obsessive personality who dreams of finding the slow-moving Greenland shark for both scientific and personal reasons. Julia's father Dan has been employed to fix the beacon in the narrow lighthouse which the family temporarily moves into.
From the very onset of the journey the story is fraught with tension between the adults as Dan tries to temper Maura's compulsive enthusiasm. Julia watches and listens and in the beginning sides mostly with her mother. The longer the family remain on the island the more it becomes obvious that all is not as it seems, and that Dan is the glue holding the family together. Added to this family living with mental illness is the rocky friendship between Julia and her new friend Kin and their relationship with Adrian the island bully. The search for the Greenland shark eventually takes both Maura and Julia on their own dangerous journeys.
This beautiful hardback edition is strikingly illustrated throughout in tones of yellow, grey and black. The ominous presence of the shark hovers throughout the pages and is presented in a myriad of ways. This is truly a stunning read which sensitively and carefully tells a powerful story while gently answering unasked questions about mental illness. Perfect for mature middle grade readers and adults alike.
Themes: Family, Relationships, Friendship, Bullying, Mental Health, Small Communities, Environmental Issues, Science, Marine Creatures, Stargazing.
Kathryn Beilby